Posted by Chris S. Cornell on 27th Jan 2021
By Chris S. Cornell
As a sports fan, I've often compared my height and weight to that of professional athletes. When I was in my 20s, at 6'3" and about 225 pounds, those numbers compared quite nicely to the dimensions of the prototypical NFL quarterback. I never quite looked like an NFL quarterback, and I certainly couldn't throw like one, but it looked good on paper.
A few years ago, shortly after my 51st birthday, my weight had ballooned to 278. Suddenly, the possibility of weighing as much as an NFL lineman was a distinct possibility
Like most Americans, I spent many years, decades actually, of my life eating foods that undermined my health. As I headed toward my mid-50s I became resigned to the fact that my better days were behind me. Running up a single flight of stairs left me gasping for air, and I had begun to dread just about any form of exercise.
Then I discovered a healthy low-carb way of eating that prioritized protein-rich and nutrient dense foods, and I was able to sustainably lose 80 pounds. Not only have I now kept the weight off for more than two and a half years, I started to enjoy running and hiking again, and my strength began to increase.
Last week, at the age of 56 and a body weight of 198 pounds, I bench pressed 305 pounds, and will be attempting a lifetime best 320 pounds in the coming week. Running four miles, three times per week, mixed in with occasional 25-mile bike rides has become a regular part of my life.
I have no doubt that the changes I made to my diet have had a significant impact on my health and my enjoyment of life. I have therefore become very selective about the foods I put in my body, and I do not compromise my standards when it comes to snacks.
Over the past year, in fact, I have pretty much eliminated ALL between-meal snacking from my diet, with one exception: Simply Snackin' beef and chicken snacks.
My healthy low-carb diet has actually helped me eliminate the between-meal cravings I used to experience when I was consuming low-quality foods like chips, cakes and energy bars, but when I do feel hunger coming on, I simply reach for one of Simply Snackin's 10 delicious flavors of beef and chicken snacks.
These are the same snacks that Olympic hopeful steeplechaser Marisa Howard uses to fuel her dreams. You can read Marisa's inspiring story here.
I can honestly say Simply Snackin' has helped fuel my comeback, and with each personal fitness goal I achieve, I owe some of the credit to their protein-rich, nutrient dense beef and chicken snacks.
My reasons for choosing Simply Snackin' are simple:
High protein:energy ratio - As Ted Naiman, MD, discusses in his book, the P:E Diet, foods with a high protein:energy ratio provide greater satiety per calorie, and that means fewer cravings and less hunger. All 10 flavors have a P:E ratio of greater than 1.0. You can read more about the P:E Diet in in an article I wrote here.
Low carbs - Simply Snackin beef and chicken snacks are great for anyone looking for delicious and nutritious snacks, but they are especially welcome for anyone looking to keep carbs low.
Easy to transport & store - individually wrapped, Simply Snackin' beef and chicken snacks travel well in a briefcase, gym bag or backpack. I take a dozen or more with me when traveling, and I'm always sure to bring extras for friends and relatives.
Tastes great - It's unusual to find a healthy snack that's also incredibly delicious, but when it comes to taste, Simply Snackin' has simply nailed it! All 10 flavors are delicious, but lately I've found myself frequently reaching for the Teriyaki Chicken with Mango and the Signature Beef.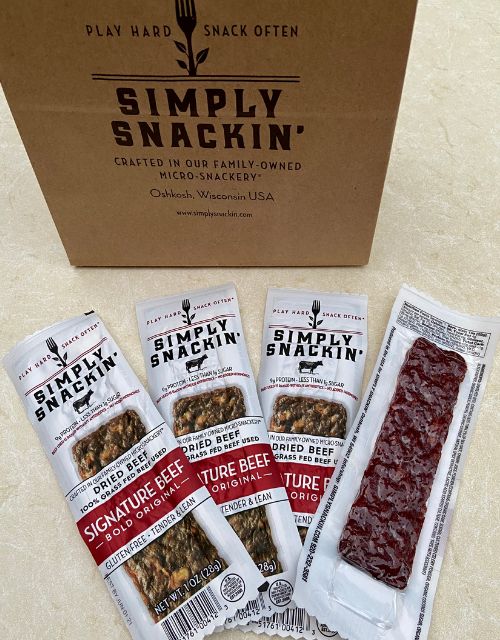 Simply Snackin' founder and CEO Sue Kramlich told me her company's mission is to "craft the highest quality on-the-go protein snacks that nourish. Our recipes are authentic & include only real ingredients, and we use time-honored process which results in snacks with nutritional value and amazing flavor. Our customers are people who appreciate a product that supports their health & wellness goals."
The main ingredient for each of Simply Snackin's 10 snack flavors is nutritious protein from grass-fed and finished beef, or chicken breast sourced from farms where animals are raised without the use of antibiotics or added hormones.
This high-quality beef or chicken is then mixed with a non-GMO seasoning blend that includes ancient sea salt harvested from mines in the USA. The seasoning blend also includes organic coconut sugar - a delicious unrefined alternative to cane sugar, sustainably grown & harvested. Just a pinch of coconut nectar initiates the natural fermentation process which results in a truly developed depth of flavor.
All of Simply Snackin's snacks are crafted In the company's family-owned micro-snackery located in Oshkosh, Wisconsin.
As I've written in past articles over the past couple of years, I have gotten used to making compromises when it comes to taste, in an effort to keep my carb count low. With Simply Snackin' there is no compromise. The taste and consistency of these meat snacks is nothing short of superb.
And it's rare for my family to find snack foods that everyone can enjoy. I've gotten to the point where I purchase a box of 100 or more at a time, and stock the cabinet for all to partake. It's a good feeling to know that every beef or chicken snack that gets eaten results in less cravings for the junk foods that were a staple in our diet just a few short years ago.
When my wife Connie tried the Italiano Chicken (one of her favorites, along with the Chicken with Mango), she said "This is very flavorful, without too much salt. It's very satisfying… really, really good." She added "This would be perfect to bring on our mission trips where we are so desperate for a good source of protein."
I long for the day when it becomes commonplace for people to bring snacks like Simply Snackin' to the office, school, or church to share, in place of the boxes of donuts, cakes and pastries that are passed around to celebrate every special occasion.
Here are Simply Snackin's 10 flavors, along with the protein:energy ratio of each:
Chris S, Cornell writes about nutrition and fitness in his weekly BiggestComeback email, which is sponsored by Simply Snackin'.