Posted by Sue Kramlich on 10th Jul 2021
Simply Snackin' sources grass-fed, grass-finished beef from Midwest farms
The June weather in Wisconsin provided the perfect opportunity to tour family farms close to home. These local farms are two of the more than 60 farms located throughout the Midwest that collectively provide grass-fed beef to our valued supplier partner—a leader in providing sustainable and humanely raised meats, and who works with farmers committed to raising animals with the same passion and ethical standards.
We support these small family farms because their farming practices result in healthier, humanely raised animals. These sustainable agricultural practices are good for the cattle, the land, and us.
These independent family farmers are committed to raising animals that are:
100% grass fed and grass finished
Never administered antibiotics or growth hormones
Raised on open pastures; Never raised in feed lots
Agriculturally sustainable and environmentally friendly
Born and raised in the USA
Roger Schmidt farm
We started at the Roger Schmidt farm (established in 1865) located in West Bend, Wisconsin, where Roger is the sixth generation of Schmidts working the original farmland. When he was in his early 20s, Roger made the switch from dairy cattle to raising grass-fed beef on the scenic hillside pastures of his family's farm.
We hiked through the higher hillside pastures to a scenic overlook with a view of cattle grazing knee-deep in lush lowland grasses. A three week lack of rain meant more frequent pasture rotation for grazing cattle to ensure new growth of nutrient rich forage.
A few miles away from the Schmidt homestead Roger has additional cattle which are pastured under the watchful eyes of a "retired" farmer who offered his vacant land for grazing; a win-win situation allowing Roger to raise more grass-fed beef and the retiree to continue to enjoy the sight and sounds of cattle flourishing on his land.
At the Roger Schmidt family farm an on-site store offers grass-fed beef to members of the local community.
Wellens Beef Farm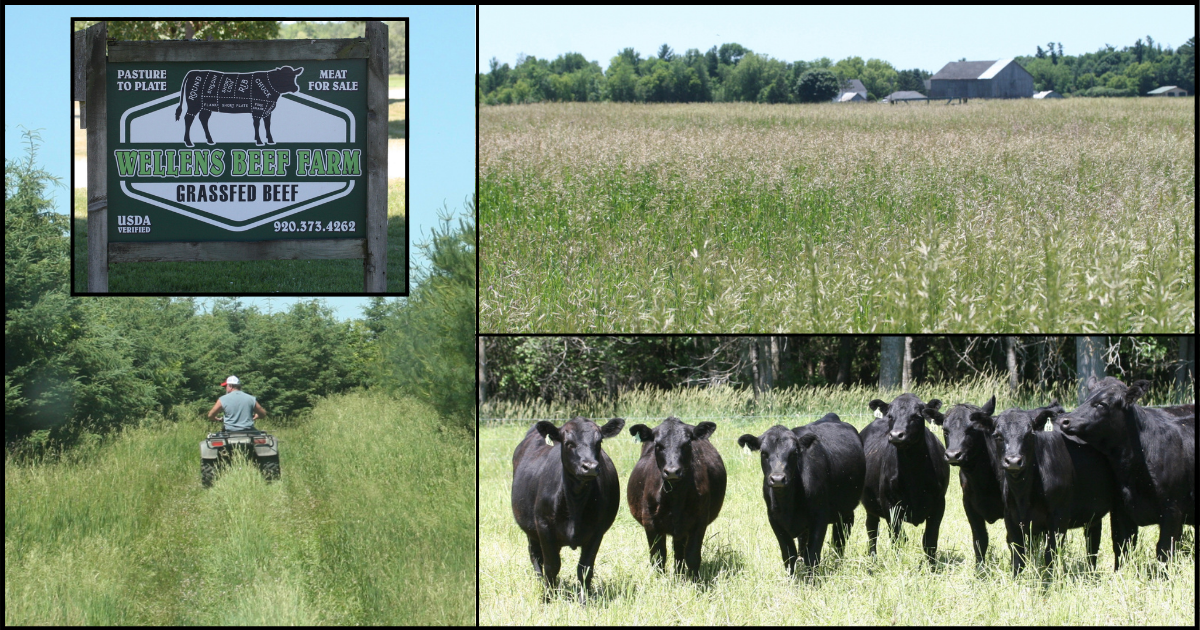 Traveling north to Lena, Wisconsin, our second visit was at the farm of Richard Wellens, a second generation family farmer who decided to retire from a job he did not enjoy and instead shift the family farm to sustainably raise grass-fed beef.
Again, the hike through knee-deep grasses yielded a view of satisfied cattle grazing their way through fields of green.
While not a man of many words you could clearly hear how important it was to Richard that his farm management resulted in raising healthy cattle and improving the land. It was also clear that this farm provided him a life he valued and enjoyed.
Richard's farm in Lena also offers grass-fed beef at the on-site store where we encourage the local community to support his small business.
---
Many thanks to Rodger & Richard for sharing their farm's story and offering us a view of life on their family farms. We are thankful that they are a part of a network of farms that supplies us with grass-fed beef. We hope this network continues to grow & support a healthier way of living - for the animals, for the land and for us.
---
Interested in learning more about regenerative agriculture?
If you're interested in learning more about the amazing potential of regenerative agriculture and the importance of a sustainable food system, we urge you to visit the following valuable resources:
Regeneration International
"If you've never heard about the amazing potential of regenerative agriculture and land use practices to naturally sequester a critical mass of CO2 in the soil and forests, you're not alone. One of the best-kept secrets in the world today is that the solution to global warming and the climate crisis (as well as poverty and deteriorating public health) lies right under our feet, and at the end of our knives and forks." —Ronnie Cummins, Regeneration International Steering Committee Member
"Regenerative Agriculture" describes farming and grazing practices that, among other benefits, reverse climate change by rebuilding soil organic matter and restoring degraded soil biodiversity – resulting in both carbon drawdown and improving the water cycle.
Learn more on the Regeneration International website.
Sacred Cow, the book and documentary
It's commonplace today to blame meat for everything from cancer to global warming. We're rightly scared about our health and our world. But are cattle being unfairly scapegoated? The Sacred Cow book and film question the following:
Should we eat meat at all?
Is there a "best" diet for humans? Or is there a spectrum of optimal human nutrition?
Can meat be part of a sustainable food system?
Can a sustainable food system exist without meat and animal contributions, both nutritionally and environmentally?
How important are ethics in the story of human nutrition and sustainability?
The Sacred Cow Project explores our relationship to the food we eat, and offers a different view on the future of food production.
---
Sue Kramlich founded Simply Snackin' in 2010, after becoming frustrated by the scarcity of healthy snacks for her children who were competitive swimmers. The Simply Snackin' mission continues to be crafting on-the-go protein snacks that nourish. Simply Snackin's recipes are authentic and include only real ingredients and a time honored process which results in snacks with nutritional value and amazing flavor - supporting a lifestyle of health & wellness.