Posted by Chris S. Cornell on 28th Jan 2022
Interview with Bartlett Durand - regenerative farmer, lawyer, and Sand County Foundation's director of water quality partnerships
As a small business that depends on water quality and soil health to ensure the quality of our beef and chicken products, Simply Snackin' has long recognized the importance of conservation of our country's private land.
After all, three-quarters of the land in the contiguous United States is privately owned, and how that land is managed has an enormous effect on the likelihood that future generations can continue to have clean and abundant water, healthy soil, and sustainable wildlife habitat.
As part of Simply Snackin's commitment to the health of our collective land, we are proud to support the Sand County Foundation and its Campaign for Conservation.
We recently spoke with Sand County Foundation's Bartlett Durand, who serves as the organization's director of water quality partnerships, about what his Madison, Wisconsin based organization is doing to scale up conservation, and why it's critically important that steps be taken now to ensure the future health of our land.
Sand County Foundation mission
The Sand County Foundation began in the mid '60s as a partnership among a group of private landowners who wanted to protect the land surrounding the famous "Shack" property of Aldo Leopold, considered to be the father of wildlife ecology and the author of A Sand County Almanac.
The Foundation provides landowners with education, information, data, and examples of how they can commit to voluntary conservation while raising awareness of Leopold's land ethic. It also provides a way others can join in this effort through financial support and by helping to raise awareness.
The Sand County Foundation believes "the farmers, ranchers and foresters who own and manage most of the private land in this nation hold the keys to environmental improvement. Their livelihoods are tied to the health of the land, but they urgently need information, data, and examples to follow to improve the environment while they produce food and fiber."
The next five to ten years represents an historic opportunity to scale up conservation on private land. Why? Because more than a third of American farmers and ranchers will soon transition their businesses to the next generation.
Bartlett explained that we're at a critical juncture, where there are a large number of farms on the verge of transitioning to a younger generation.
"We need to capture this opportunity and communicate the conservation message, or we're going to have to wait 20 to 30 years for the next transition to occur. So right now, we're very, very active and trying to raise funds for this campaign."
With the massive transition in land ownership taking place in the coming years, the Sand County Foundation has launched a "Campaign for Conservation" aimed at expanding its capacity to:
conduct needed research and demonstration of practical conservation methods on farmland,
advance necessary policy improvements to scale up conservation on working land, and
expand its outreach to engage more landowners in voluntary conservation.
"It's the boomer generation," explained Bartlett. "They're getting to the point where they have to retire or buy the farm.
The Sand County Foundation estimates more than a third of American farmers and ranchers will soon transition their businesses to the next generation.
That brings up the question of what will become of this land. The trend is toward bigger and bigger farms, especially when more farmland is developed for housing or commerce.
"When you lose prime farmland to development, you lose production capacity," said Bartlett. "Then the remaining farms generally get bigger and are more commodity based, more production based. You get a lot more corporations coming in with more machinery. As the size and the scale gets bigger and bigger, you end up with more monocropping."
Some of the consequences, according to Bartlett, include loss of topsoil, nutrient runoff, and degradation of water quality. The system mandates cheaper and cheaper foods, and there is often no incentive to protect our natural resources. As the farms continue to get bigger, the situation often continues to worsen.
"We have real issues," said Bartlett. "You've got flooding issues and habitat loss issues, and we're turning our world into a giant factory. And as people allow that to just grow and grow, we will be left with what will essentially become a modified desert. So this isn't small stuff. These are very serious, fundamental systemic issues we have going on, and yet we have this opportunity to start changing the culture."
The Leopold Conservation Award Program recognizes agricultural landowners actively committed to a land ethic. Sand County Foundation, national sponsor American Farmland Trust and several prominent state conservation partners present the prestigious honor, which consists of $10,000 and a crystal award, in settings that showcase the landowners' achievements among their peers.
Sand County Foundation Success Stories - The objective behind Sand County Foundation's efforts is to learn from, encourage, and where appropriate, assist citizen-based conservation projects that incorporate multiple landowners, a commitment to ethics and incentives, monitoring, independent review, and a willingness to share the social, economic, and environmental outcomes with others.
The Sand County Foundation is a 501(c)(3) Public Charity. Make a tax-deductible gift to Sand County Foundation to improve water quality, soil health and wildlife habitat across the U.S.
Influenced by Hawaiian culture
After majoring in history at the University of Wisconsin-Madison, Bartlett earned a law degree at the University of Hawai'i at Manoa - William S. Richardson School of Law.
It was while he was in law school that Bartlett was exposed to the Hawaiian cultural laws that treat resources such as water very differently than the Western law that derived from ancient England.
"The standard water law of the West treats water as a scarce resource, where the first one to tap into it gets the rights. And if you take all the water and there's nothing left for the person downstream, that's too bad."
In Hawaii, Bartlett explained, people realized early on that they had to protect this valuable resource if they were to thrive, or even survive. Clean water was essential for farmland, fish farming, wildlife, as well as for drinking.
"There was this sense of the 'one water' coming all the way down from the mountains, and they all had to use it multiple times and keep it clean. Now we have brought that idea to the mainland. We need to stop calling it wastewater and stormwater and drinking water, because it is all one water, and we have to take care of it."
Bartlett has personal experience with regenerative agriculture and organic farming. He has worked for his family's Otter Creek Organic Farm and has served as business manager of a retail butcher shop called The Conscious Carnivore.
Otter Creek Organic Farm is an organic dairy, utilizing cutting-edge regenerative agriculture methods . "We were grass fed before grass fed was a term," said Bartlett. "We've always been pastured and utilize intensive rotations and biological farming."
"I learned all about farm economics and the value you can add while working on the farm," said Bartlett. "I learned about the importance of the farmer trying to do more to get a higher value for what they're growing and getting out of the commodity market…"
Bartlett stressed the importance of differentiating one's products by providing more value, which might come from organic farming methods, grass-fed and grass-finished animals, or certified humane slaughter facilities.
"If our corn is a widget, nobody cares where it came from, they just want corn," said Bartlett. We have to move away from the idea of fungible products and look for ways to provide value."
"Fungible is one of my favorite words," said Bartlett. "Each thing is like the other thing. A widget is fungible. A dollar bill is fungible. The more you can get for the same price or less, the better, because they're completely interchangeable. Food should not be fungible. Anybody who has had a tomato from their own garden or from the farmers market, versus a tomato from a supermarket in December knows they are not the same thing. And so understanding your food is a very special unique thing."
Bartlett says consumers are essentially voting with their dollars, because what you buy is literally creating the world you want to see.
"So if all you do is buy McDonald's, you're creating the demand for more McDonald's in the world. But if what you want are local farmers, local vegetables, providing the highest quality food, you're far better off spending your money on properly raised meats and farm goods."
A Sand County Almanac, by Aldo Leopold
In A Sand County Almanac, Aldo Leopold's "The Land Ethic" essay is an appeal for moral responsibility to the natural world. A land ethic, Leopold wrote, "simply enlarges the boundaries of the community" to include not only humans, but also soils, waters, plants, and animals—or what Leopold called "the land."
"Leopold's book is really an ethical treatise and long poem about the inherent value of the land and ecology around us," said Bartlett. "It started shifting our thinking of human ecology from being very human centric, where everything's about us, to the idea that wildlife, land, and all the systems around us all have intrinsic value. And that we are part of the land."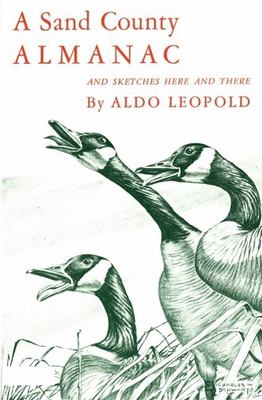 " A Sand County Almanac was really based on his observations of personally restoring an area of land in the middle of Wisconsin, where many years of farming had decimated the soil," said Bartlett. "Over decades, he and his family planted thousands of trees and restored the land to be one of vibrancy."
The shack that Leopold built for his family to stay in while they were there is now very famous and is still a tourist spot.
There was encroaching development pressure on the area around Leopold's shack, but fortunately there were those who did not want to see the shack itself or the lands around it, converted into condos or summer homes or other development.
The Sand County Foundation has literally ensured the preservation of the shack and history that surrounds it.
On January 16,2009, the U.S. Department of the Interior announced the inclusion of the Aldo Leopold Shack and Farm, Fairfield and Lewiston Townships, WI, as National Historic Landmarks:
Aldo Leopold Shack and Farm, Fairfield and Lewiston Townships, WI, is a property once owned by Aldo Leopold, a forester, writer, professor, and conservationist, who had a tremendous impact on natural resource conservation in America.
Leopold pioneered the science and profession of wildlife management and his conservation philosophies led to the establishment of national policies on forestry, game management, watershed management and soil conservation.
Even more significant has been the continuing influence of his concept of land health and his land ethic philosophy at the national and international levels in the years since his death. In the early 1930s, Leopold purchased a small farm and rehabilitated a chicken coop, lovingly referred to as the Shack, in Baraboo, Wisconsin, for him and his family as a weekend retreat where the family could focus on the restoration of the natural environment and observe daily and seasonal changes.
The setting of the Shack provided inspiration for Leopold's writings on conservation, the environment, and wildlife. After Leopold's death in 1948, one of his most influential works, A Sand County Almanac was posthumously published; this was a collection of personal essays and sketches composed by Leopold predominately at the farm and the Shack.